Other website of interest are fiberglassics.com/library/Cadillac which provide additional information on molded mahogany boat. Other Website of interest are http://www.forgottenfiberglass.com/fiberglassics-fiberglass-boats/a-visit-with-fiberglassics-and-the-brooks-stevens-designed-sea-lark-boat/ which provide additional information on Cadillac Boat Company. More information may be found in the late Bob Speltz's excellent book,

The Real Runabouts iv

. In 1956, The Cadillac Boat Co. ( Cadillac Marine and Boat Co ) did built a 16 ft fiberglass. If you have a Cadillac boat, You must look for rotted wood under the bow and in rear corners below the water Line. If you have a Cadillac boat, you must look for metal plate on inside of transom or number and letters stamped in transom or keel. If you have any stories and pictures on your Cadillac and would like to share your stories and pictures of your boat on this web site. This page is to inform people about how many types of Cadillac Boats were built for a teaching and research purposes only. If you would like to be on this page, Please contact me at mbbfogarty@aol.com
Thank You,
Brian Fogarty​
This is a Cadillac Daytona Boat below by Steve Blackmer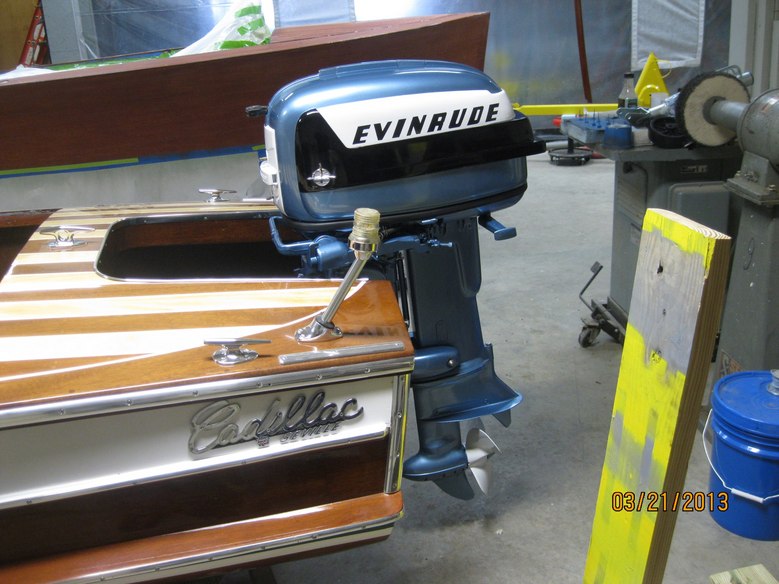 Michael Claudon-We are in the final stages of restoring my Caddy Seville by Michael Claudon- this is a beautiful Cadillac boat below
by Michael Claudon-this is a beautiful motor on a Cadillac boat below
My Cadillac is a 'Custom' and I believe it is a '57. It matches the '57 dated ad on your site. I'm bring the boat back...still has a ways to go. The '57 Johnson Javelin is complete. by Jim Alexander below
here is my little story and some photos below
Well I found my 1954 Cadillac boat on Craigslist. It came with a 1954 Johnson QD15 10hp. It is in great shape for a boat and motor that old. I use it for fishing the Saint Clair River and Lake Saint Clair here in Michigan. It is a very stable boat and performs quite well. Without fishing gear it will run at 21 mph and with all my fishing gear 18-19 mph. If the wind is blowing more than 10mph I stay in protected waters. The wind does push it around a lot while trolling. About the only thing I have done to it is install new transom wood, GPS/Fish finder and some minor motor work. I'm trying to find out who made trailers for Cadillac boats back in the mid 50's. I plan on a little cleaning of the boat this year. I'm just using SOS pads and water. I also plan on having a new decals made with the Cadillac logo. I can see where the old one was if the light hits it right. I believe these boats were the best boats built back then and there still better than many of the new boats.
by Bob Springer

This is a 1957 Cadillac Boat ad by Cadillac Marine and Boat Co.by Brian Fogarty
This is a Cadillac Boat ad by Cadillac Marine and Boat Co. by Brian Fogarty
This is a very beautiful Boat.It was an original 1957 Cadillac Coronado. by Dianne Morrison below
This is a very rare boat called the The Monterey by Mark Tilford below
This is a beautiful Cadillac boat By Theresa Broadwater below
This is a 1956 Cadillac 16 Ft Fiberglass Boats by Cadillac Marine and Boat Co. by Brian Fogarty
This is a 1955 Cadillac Aluminum Boats ad by Cadillac Marine Boat Co. By Brian Fogarty
This is a 1958 Cadillac Boats Models named Nantucket, Seville, Constellation, and Lido ad by Cadillac Marine and Boat Co. by Brian Fogarty


This is a Cadillac Boats by Cadillac Marine and Boat Co. By Brian Fogarty below
This is a Cadillac Boats by Cadillac Marine and Boat Co. By Brian Fogarty below
This is a 1958 Cadillac boats for a Capri, Nantucket and Daytona by Cadillac Marine and Boat Co. by Brian Fogarty below
This is a Cadillac all aluminum boats ad in July 1956 by Cadillac Marine and Boat Company by Brian Fogarty
This is a 1957 Cadillac boat ad by Cadillac Marine and Boat Co. By Brian Fogarty below
This is a 1956 Cadillac Boats ad by Cadillac Marine and Boat Co. By Brian Fogarty below
This is a 1958 Cadillac boats ad By Cadilac Marine and Boat Co. by Brian Fogarty

This is a Cadillac line of Daytona, Sarasota, and Capri boats ad by Brian Fogarty below

This is a 1958 boat ad for a Blue Star Boats, Dunphy Boats,Cadillac Boats, Wagemaker Boats, and other Boats Company by Brian Fogarty below

This is a 1955 Boat ad for a Cadillac boats, Feathercraft Boats, and Lone Star Boats By Wagemaker and others Boat Company by Brian Fogarty below

This is a 1955 Cadillac Aluminum Boats ad by Cadillac Marine Boat Co. By Brian Fogarty

This is a 1957 ad-Sea Lark By Cadillac Marine and Boat Company by Brian Fogarty below
This is a Cadillac Boats ad by Cadillac Marine and Boat Co. by Brian Fogarty below
This is a 1958 Cadillac 814 sarasota aluminum boat by Robert
This is a pictures of a awesome 1958 14' Cadillac Boat by Rick Angelo below
This is a pictures of a awesome 1957 Cadillac Boat by Michael Desimone below.
This is a 1956 Cadillac Boat ad by Cadillac Marine and Boat Co. By Brian Fogarty below

This is a Early Cadillac boat by Bryan Butterfield. Thank you for sharing your pictures of your cadillac boat.

This is a 1957 Cadillac "Silver Bullet" owned by David Belanger below

This is a 1955 Cadillac King Size Aluminum Boats Seville Model by Cadillac Marine and Boat Company by Brian Fogarty below

This is a 1954 Cadillac Boats ad by Cadillac Marine and Boat Co. by Brian Fogarty below