The Cadillac Boat Company was not a large business but they did a good job in their own market. The Wagemaker Company bought out the Cadillac Boat Company and they turned it into a division of Wagemaker.

Another Website of interest is http://www.fiberglassics.com/library/index.php?title=Cadillac which provide additional information on molded mahogany boat. Another Website of interest is http://www.forgottenfiberglass.com/fiberglassics-fiberglass-boats/a-visit-with-fiberglassics-and-the-brooks-stevens-designed-sea-lark-boat/ which provide additional information on Cadillac Boat Company. More information may be found in the late Bob Speltz's excellent book,

The Real Runabouts iv

. Another Website of interest is https://jalopnik.com/there-was-a-cadillac-that-made-literal-boats-1699540448 which provide additional information on Cadillac Boat Company by Jason Torchinsky. In 1956, The Cadillac Boat Co. ( Cadillac Marine and Boat Co ) did built a 16 ft fiberglass. If you have a Cadillac boat, You must look for rotted wood under the bow and in rear corners below the water Line. If you have a Cadillac boat, you must look for metal plate on inside of transom or number and letters stamped in transom or keel. If you have any stories and pictures on your Cadillac and would like to share your stories and pictures of your boat on this web site. This page is to inform people about how many types of Cadillac Boats were built for a teaching, commentary, and research purposes only. If you would like to be on this page, Please contact me at mbbfogarty@aol.com
Thank You,
Brian Fogarty​
This is a Cadillac Daytona Boat below by Steve Blackmer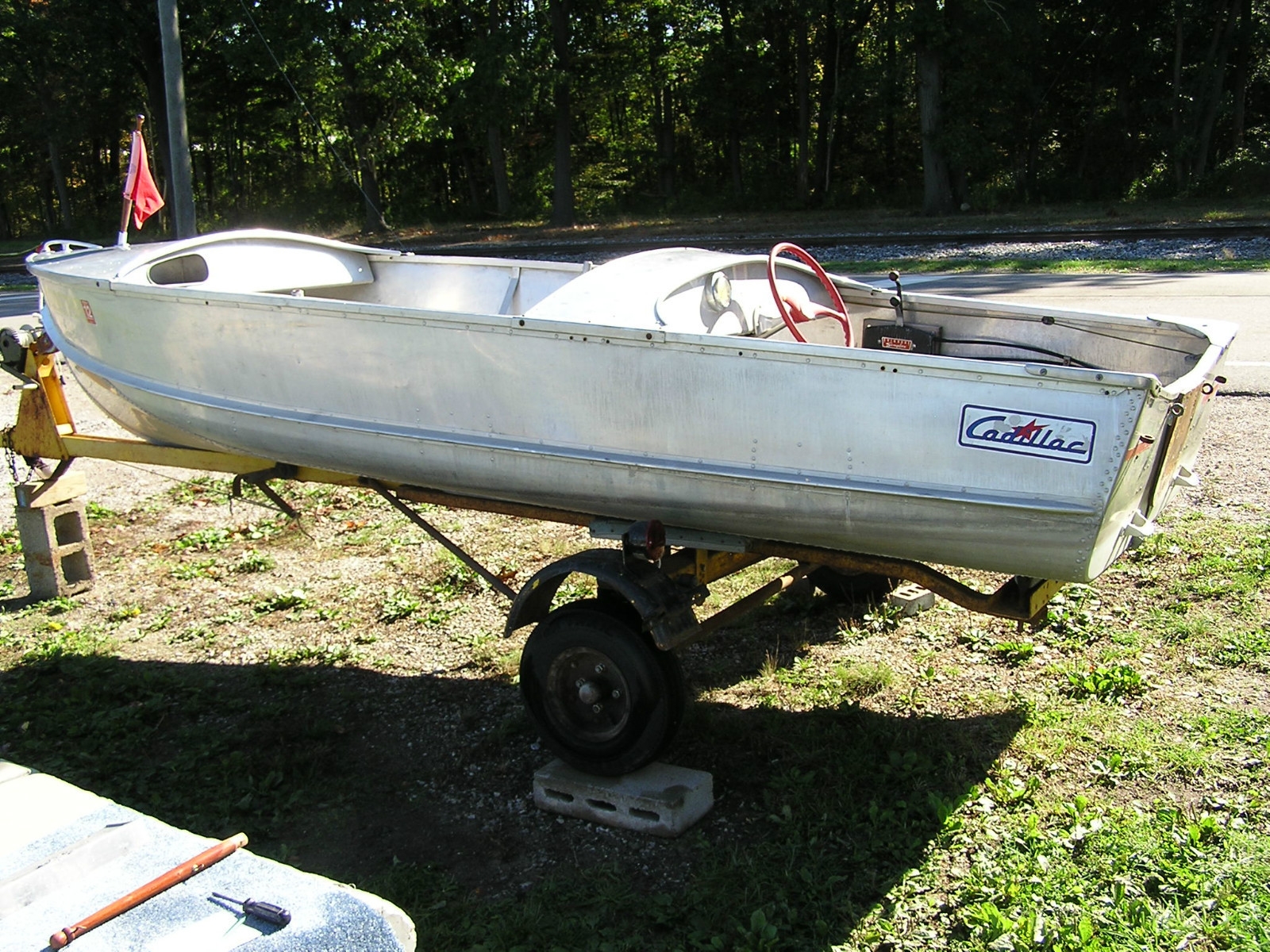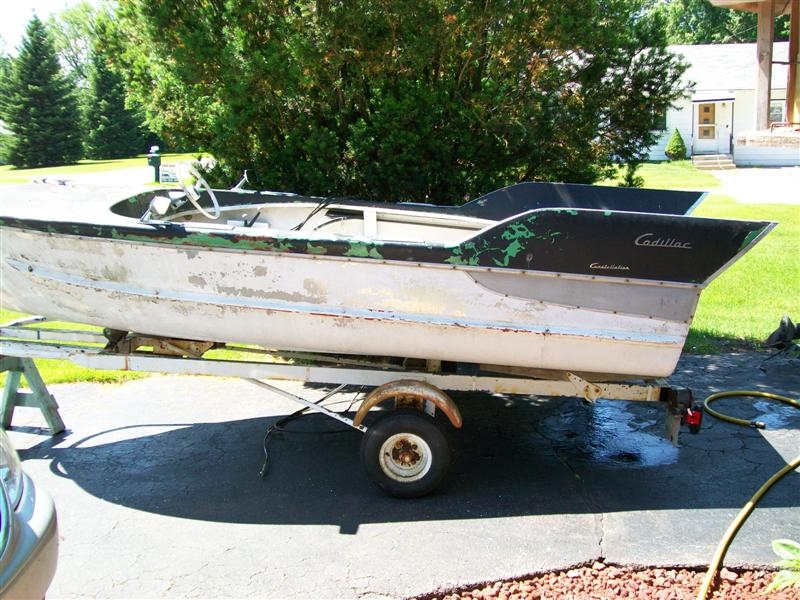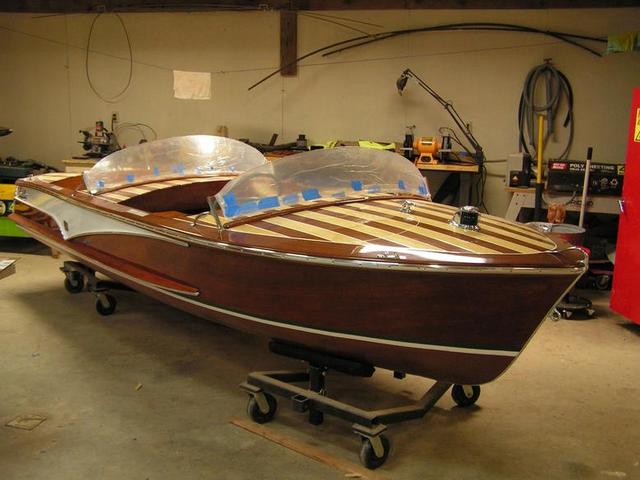 Michael Claudon-We are in the final stages of restoring my Caddy Seville by Michael Claudon- this is a beautiful Cadillac boat below
by Michael Claudon-this is a beautiful motor on a Cadillac boat below
My Cadillac is a 'Custom' and I believe it is a '57. It matches the '57 dated ad on your site. I'm bring the boat back...still has a ways to go. The '57 Johnson Javelin is complete. by Jim Alexander below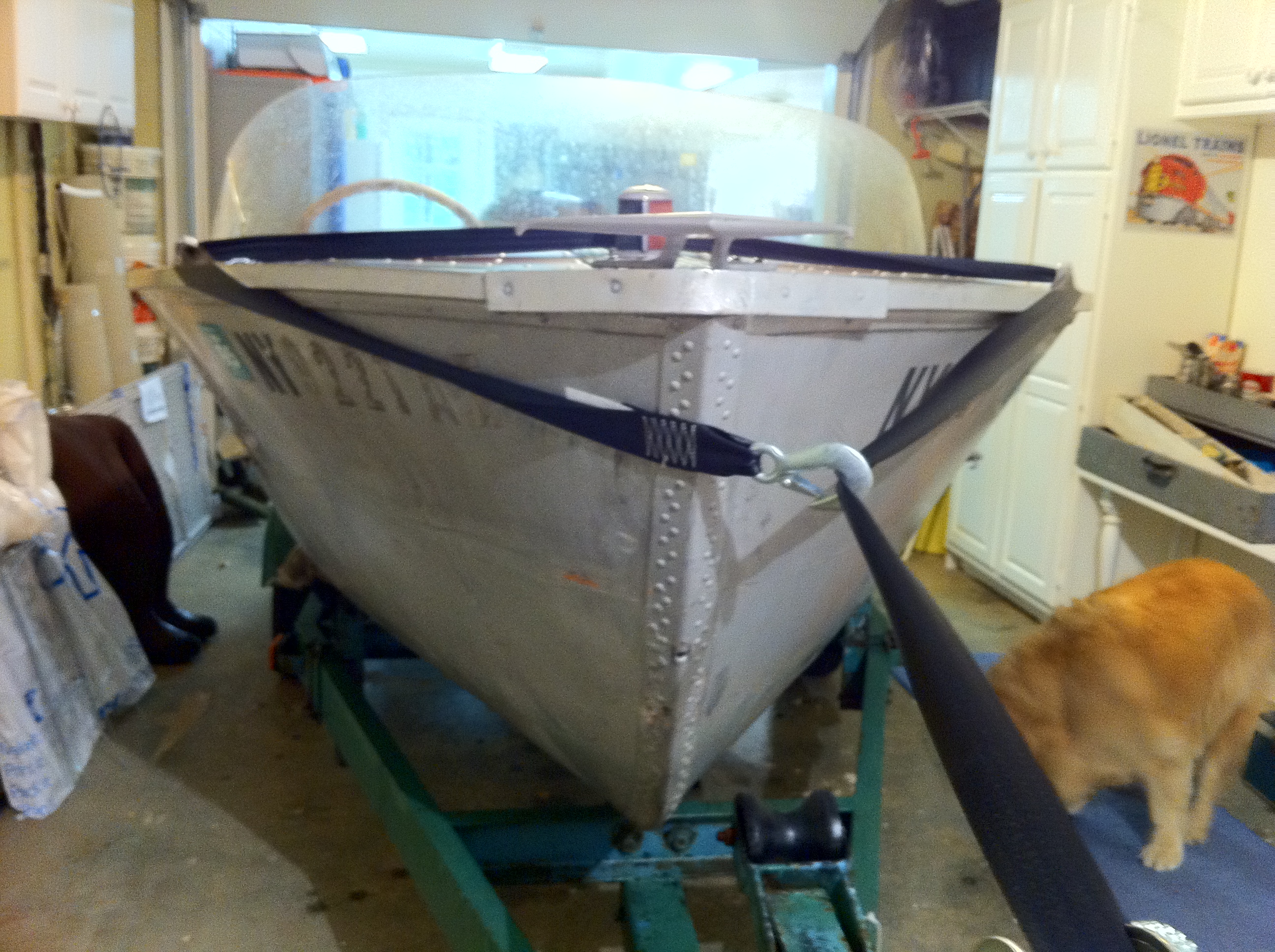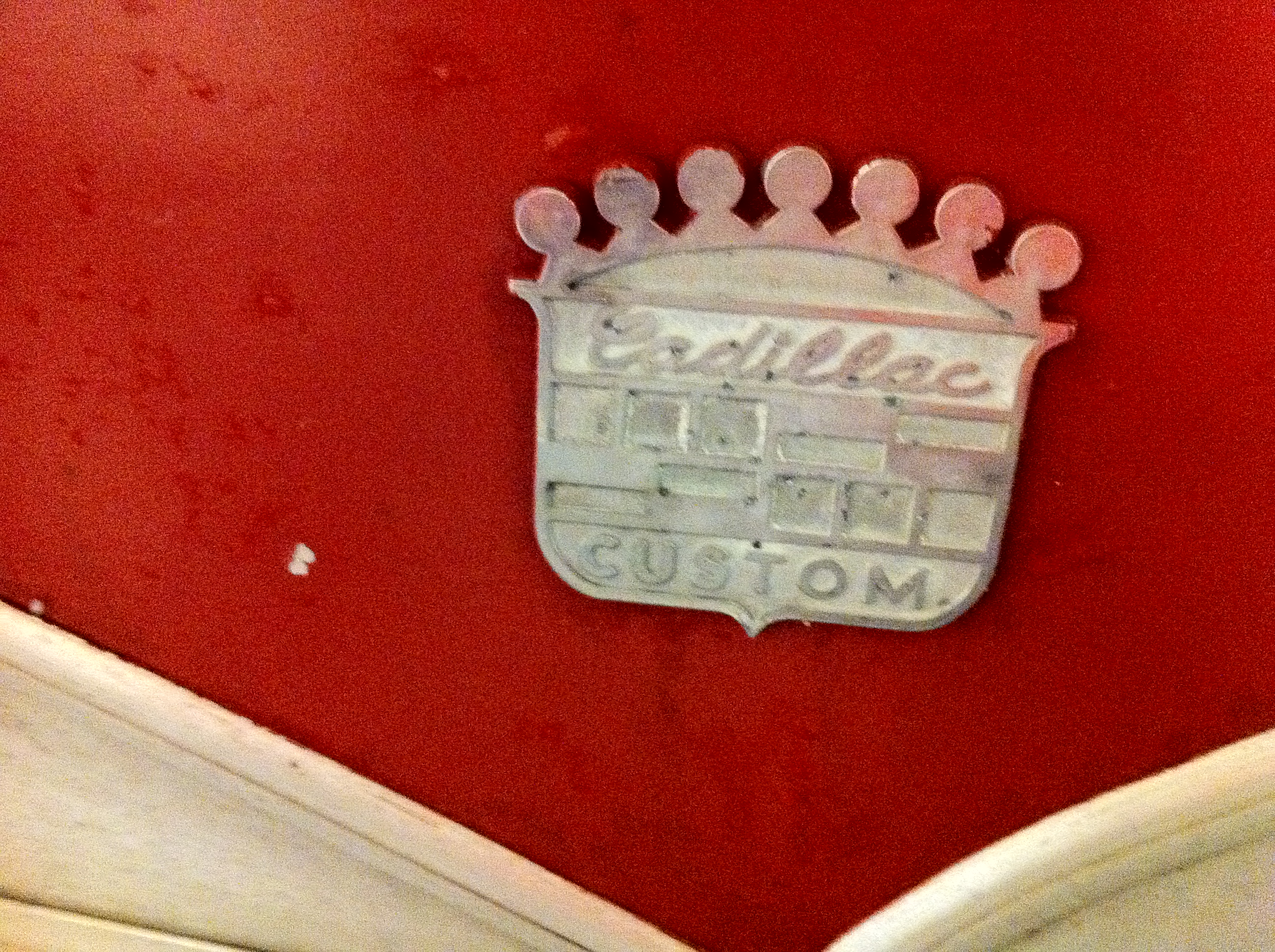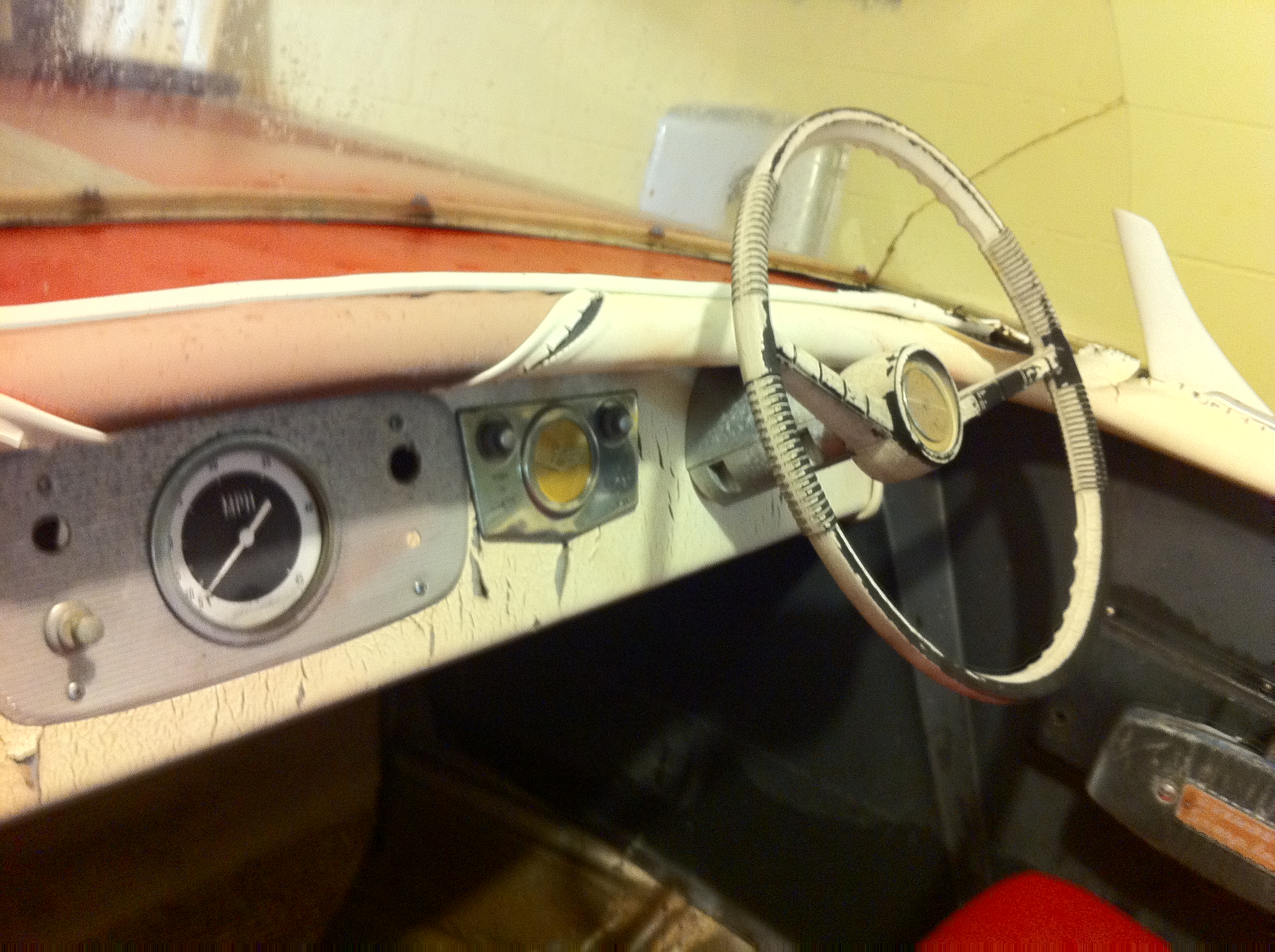 here is my little story and some photos below
Well I found my 1954 Cadillac boat on Craigslist. It came with a 1954 Johnson QD15 10hp. It is in great shape for a boat and motor that old. I use it for fishing the Saint Clair River and Lake Saint Clair here in Michigan. It is a very stable boat and performs quite well. Without fishing gear it will run at 21 mph and with all my fishing gear 18-19 mph. If the wind is blowing more than 10mph I stay in protected waters. The wind does push it around a lot while trolling. About the only thing I have done to it is install new transom wood, GPS/Fish finder and some minor motor work. I'm trying to find out who made trailers for Cadillac boats back in the mid 50's. I plan on a little cleaning of the boat this year. I'm just using SOS pads and water. I also plan on having a new decals made with the Cadillac logo. I can see where the old one was if the light hits it right. I believe these boats were the best boats built back then and there still better than many of the new boats.
by Bob Springer

This is a 1957 Cadillac Boat ad by Cadillac Marine and Boat Co.by Brian Fogarty
This is a Cadillac Boat ad by Cadillac Marine and Boat Co. by Brian Fogarty
This is a very beautiful Boat.It was an original 1957 Cadillac Coronado. by Dianne Morrison below
This is a very rare boat called the The Monterey by Mark Tilford below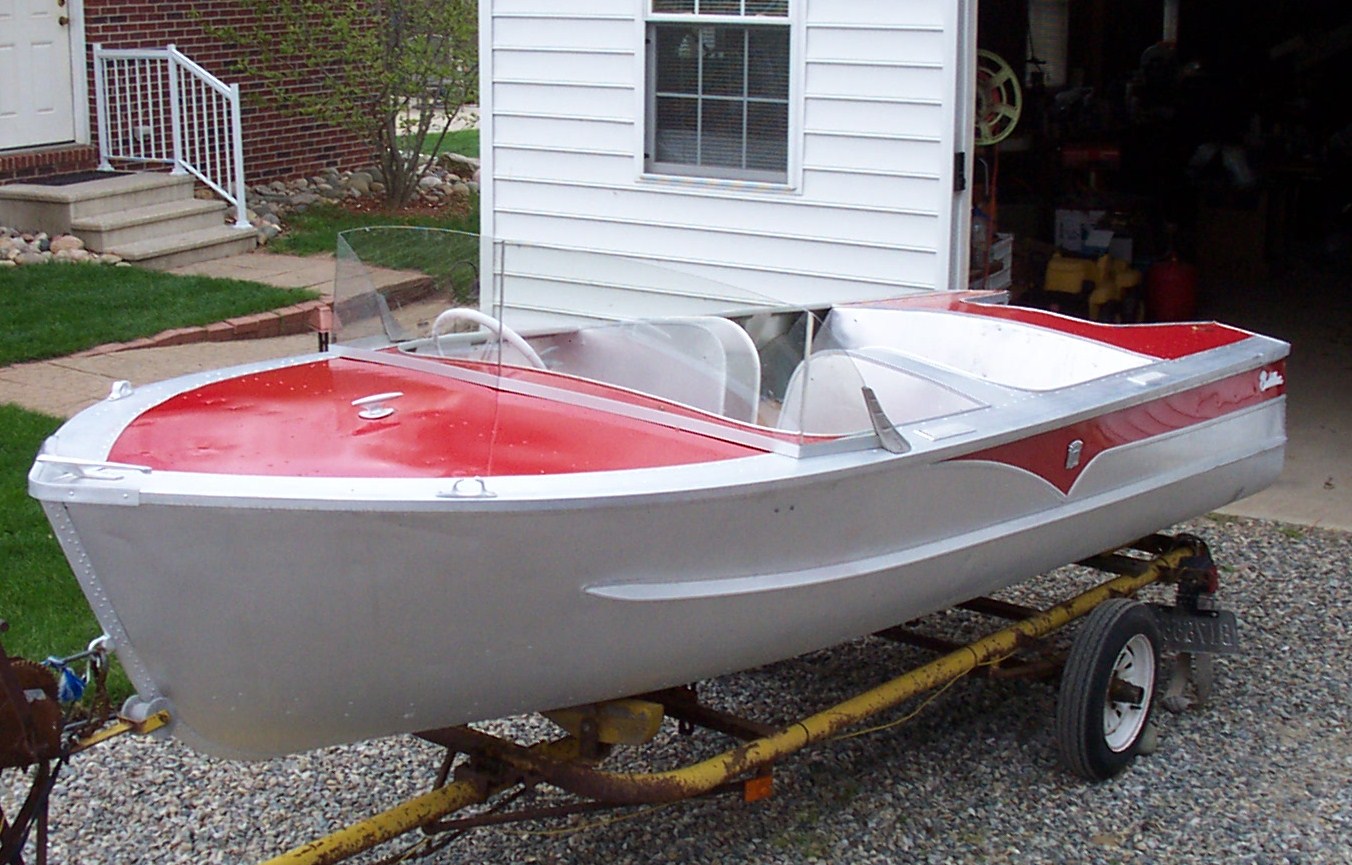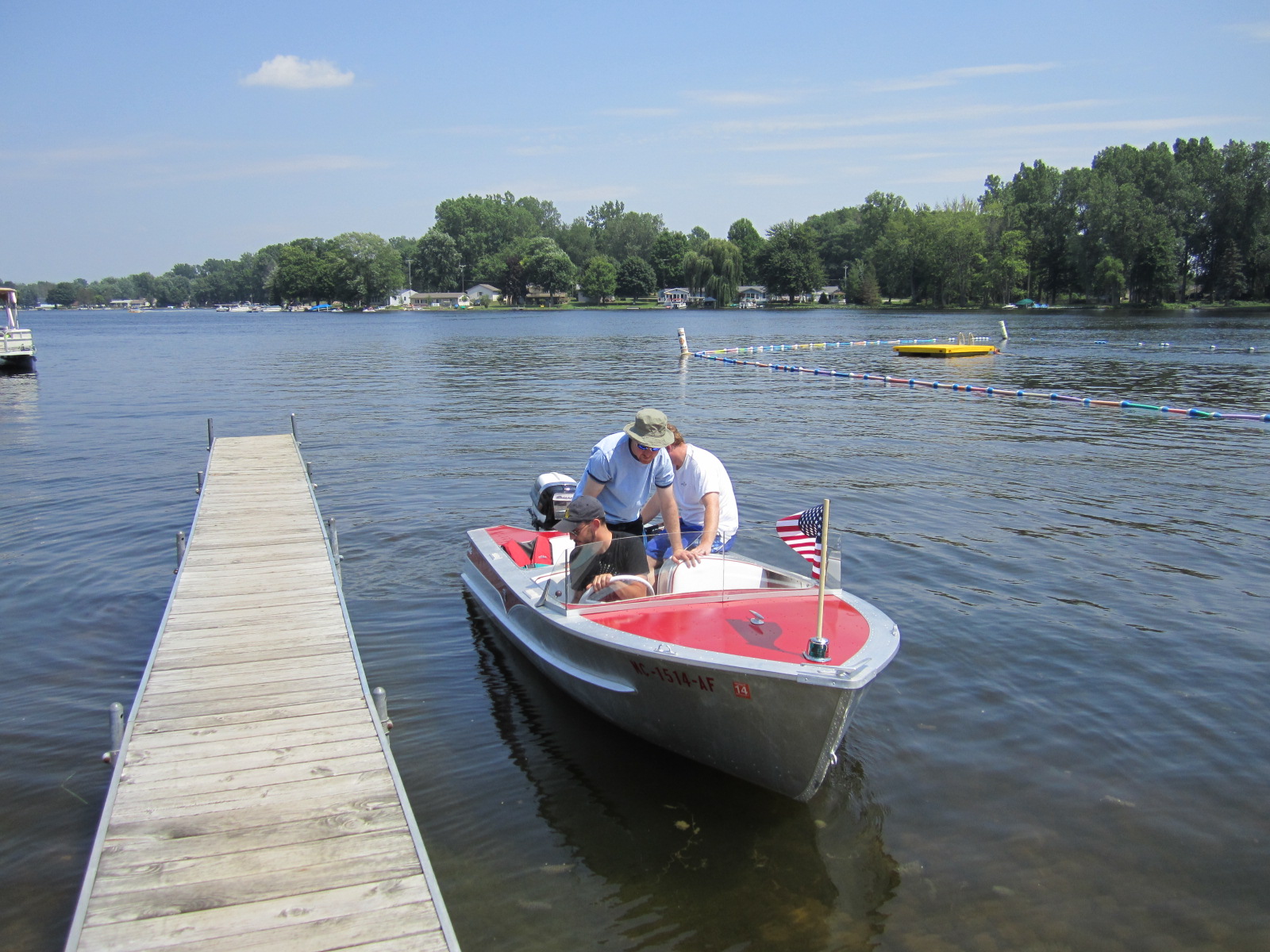 This is a beautiful Cadillac boat By Theresa Broadwater below
This is a 1956 Cadillac 16 Ft Fiberglass Boats by Cadillac Marine and Boat Co. by Brian Fogarty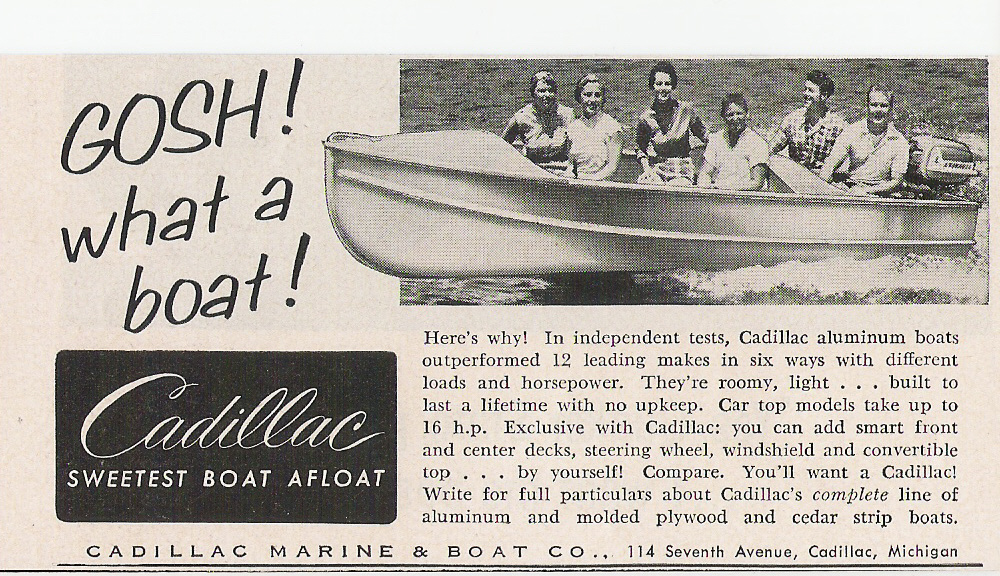 This is a 1955 Cadillac Aluminum Boats ad by Cadillac Marine Boat Co. By Brian Fogarty
This is a 1958 Cadillac Boats Models named Nantucket, Seville, Constellation, and Lido ad by Cadillac Marine and Boat Co. by Brian Fogarty


This is a 1954 Cadillac Boats by Cadillac Marine and Boat Co. By Brian Fogarty below
This is a Cadillac Boats by Cadillac Marine and Boat Co. By Brian Fogarty below
This is a 1958 Cadillac boats for a Capri, Nantucket and Daytona by Cadillac Marine and Boat Co. by Brian Fogarty below
This is a Cadillac all aluminum boats ad in July 1956 by Cadillac Marine and Boat Company by Brian Fogarty
This is a 1957 Cadillac boat ad by Cadillac Marine and Boat Co. By Brian Fogarty below
This is a 1956 Cadillac Boats ad by Cadillac Marine and Boat Co. By Brian Fogarty below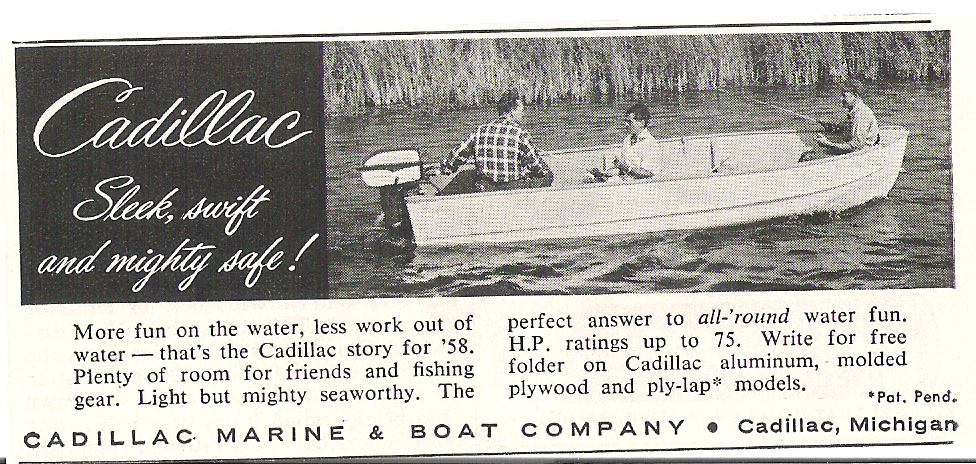 This is a 1958 Cadillac boats ad By Cadilac Marine and Boat Co. by Brian Fogarty

This is a Cadillac line of Daytona, Sarasota, and Capri boats ad by Brian Fogarty below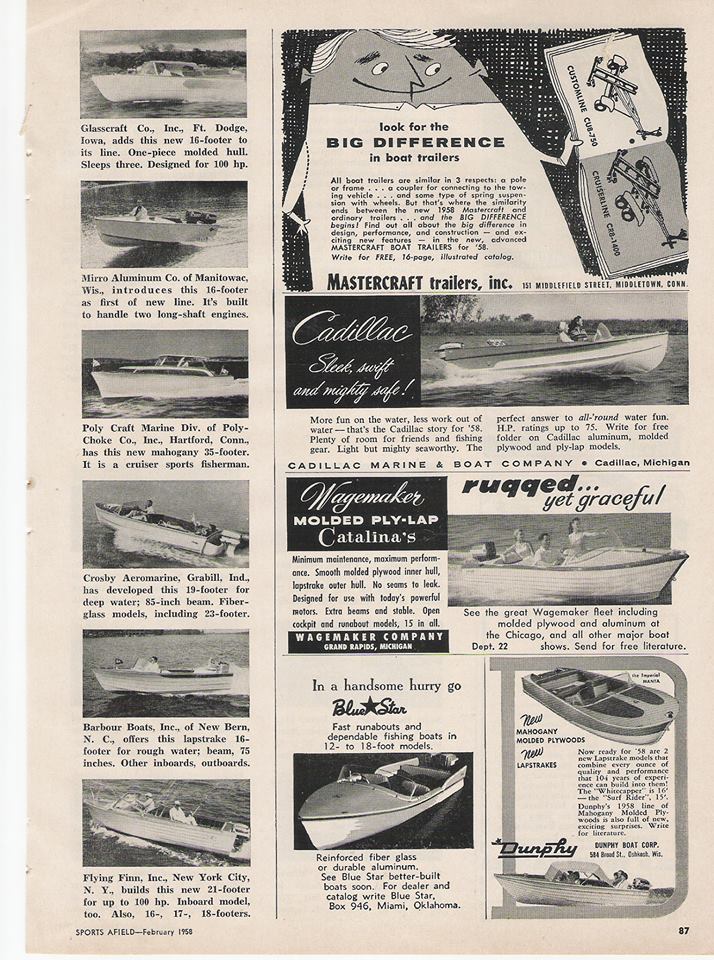 This is a 1958 boat ad for a Blue Star Boats, Dunphy Boats,Cadillac Boats, Wagemaker Boats, and other Boats Company by Brian Fogarty below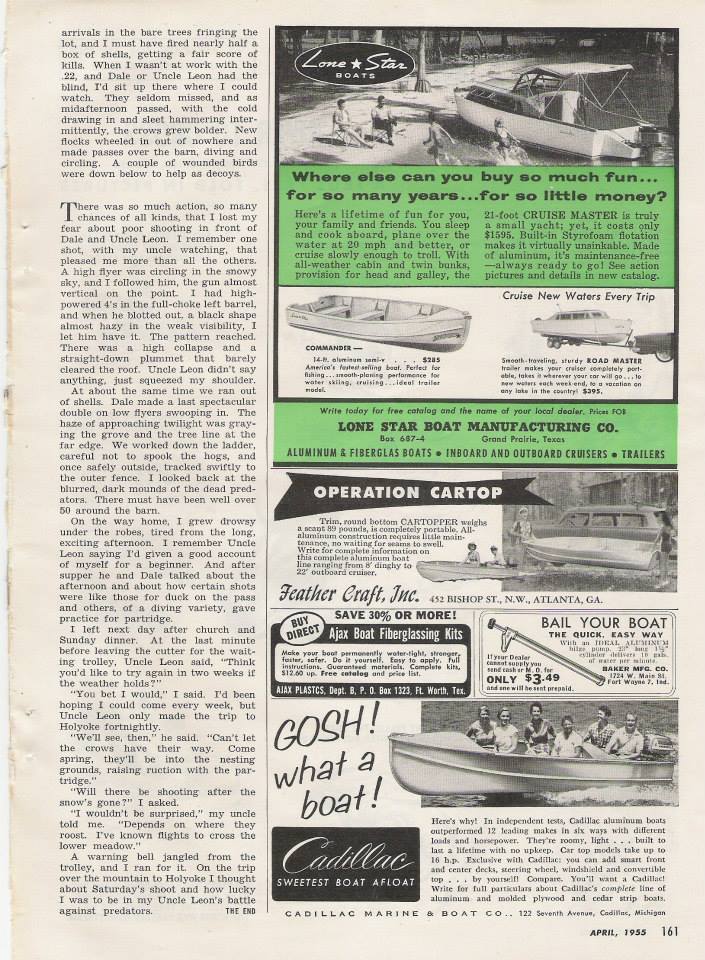 This is a 1955 Boat ad for a Cadillac boats, Feathercraft Boats, and Lone Star Boats By Wagemaker and others Boat Company by Brian Fogarty below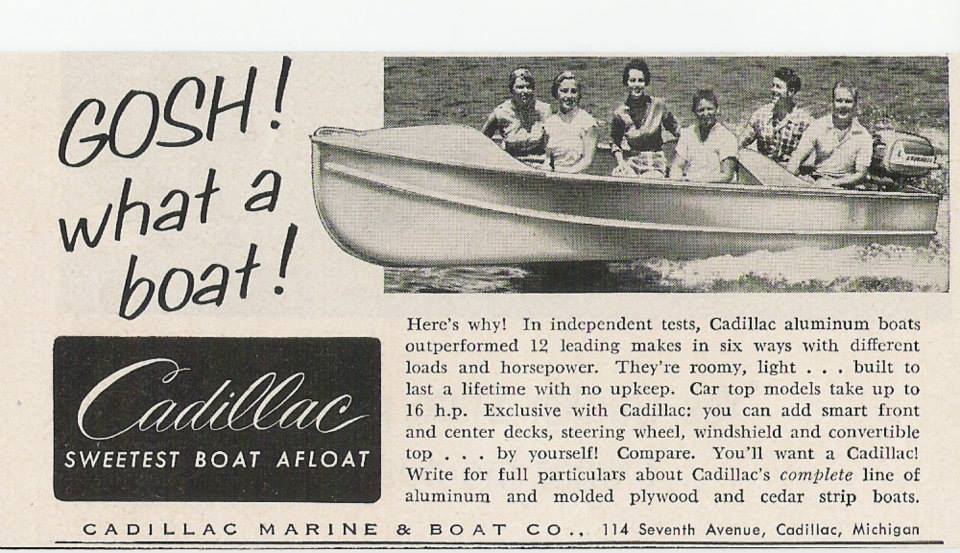 This is a 1955 Cadillac Aluminum Boats ad by Cadillac Marine Boat Co. By Brian Fogarty

This is a 1957 ad-Sea Lark By Cadillac Marine and Boat Company by Brian Fogarty below
This is a 1958 Cadillac 814 sarasota aluminum boat by Robert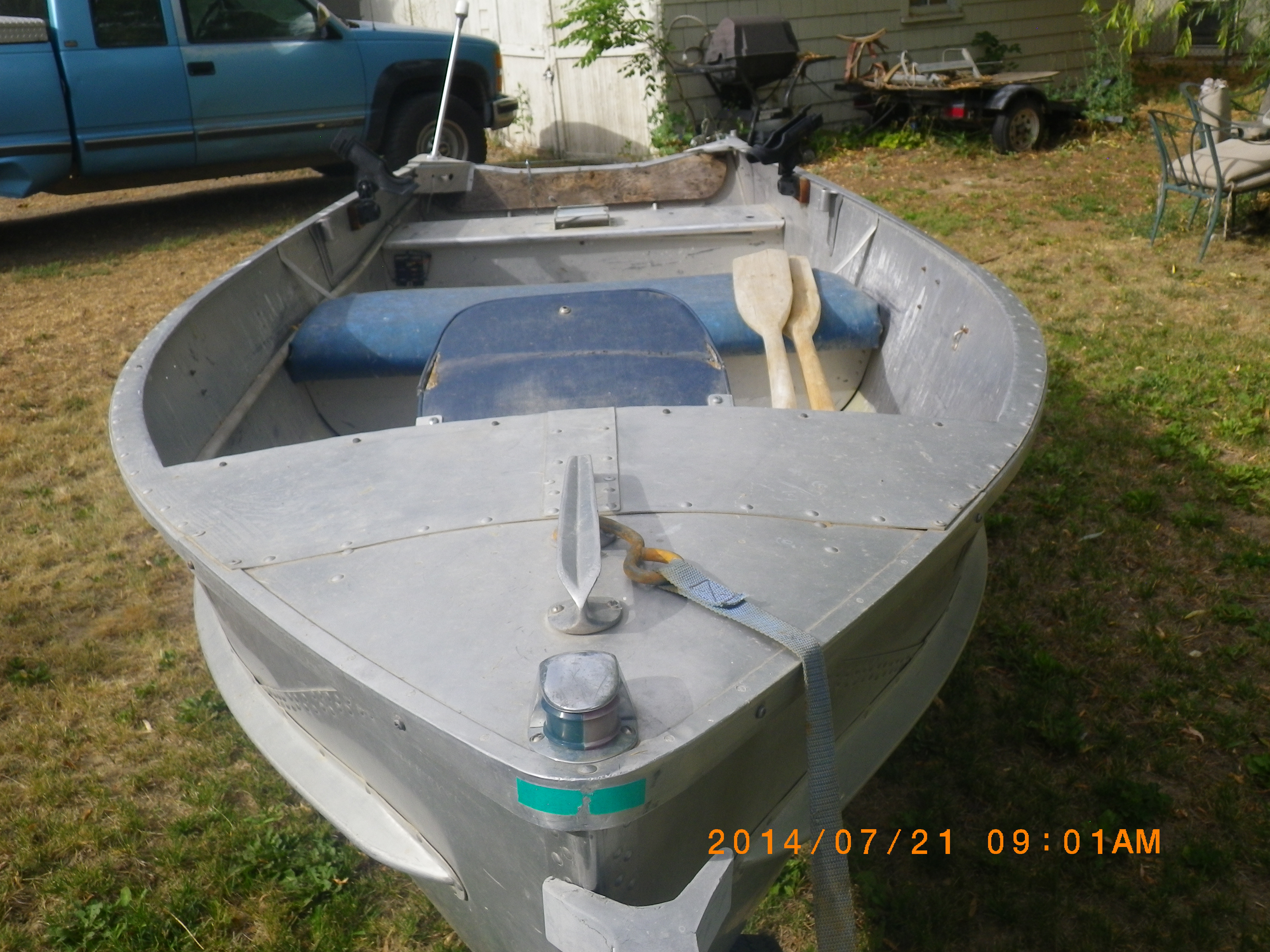 This is a pictures of a awesome 1958 14' Cadillac Boat by Rick Angelo below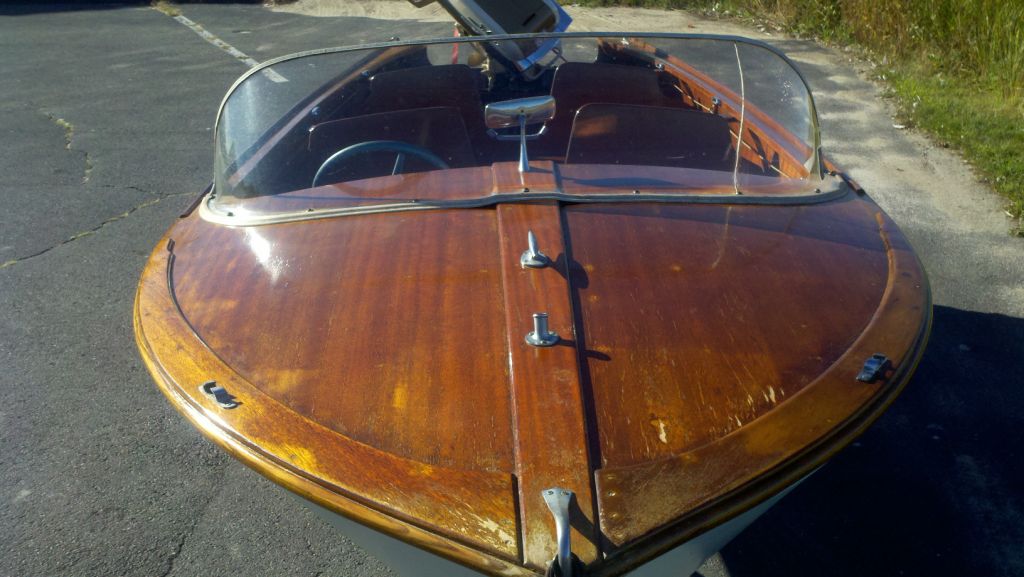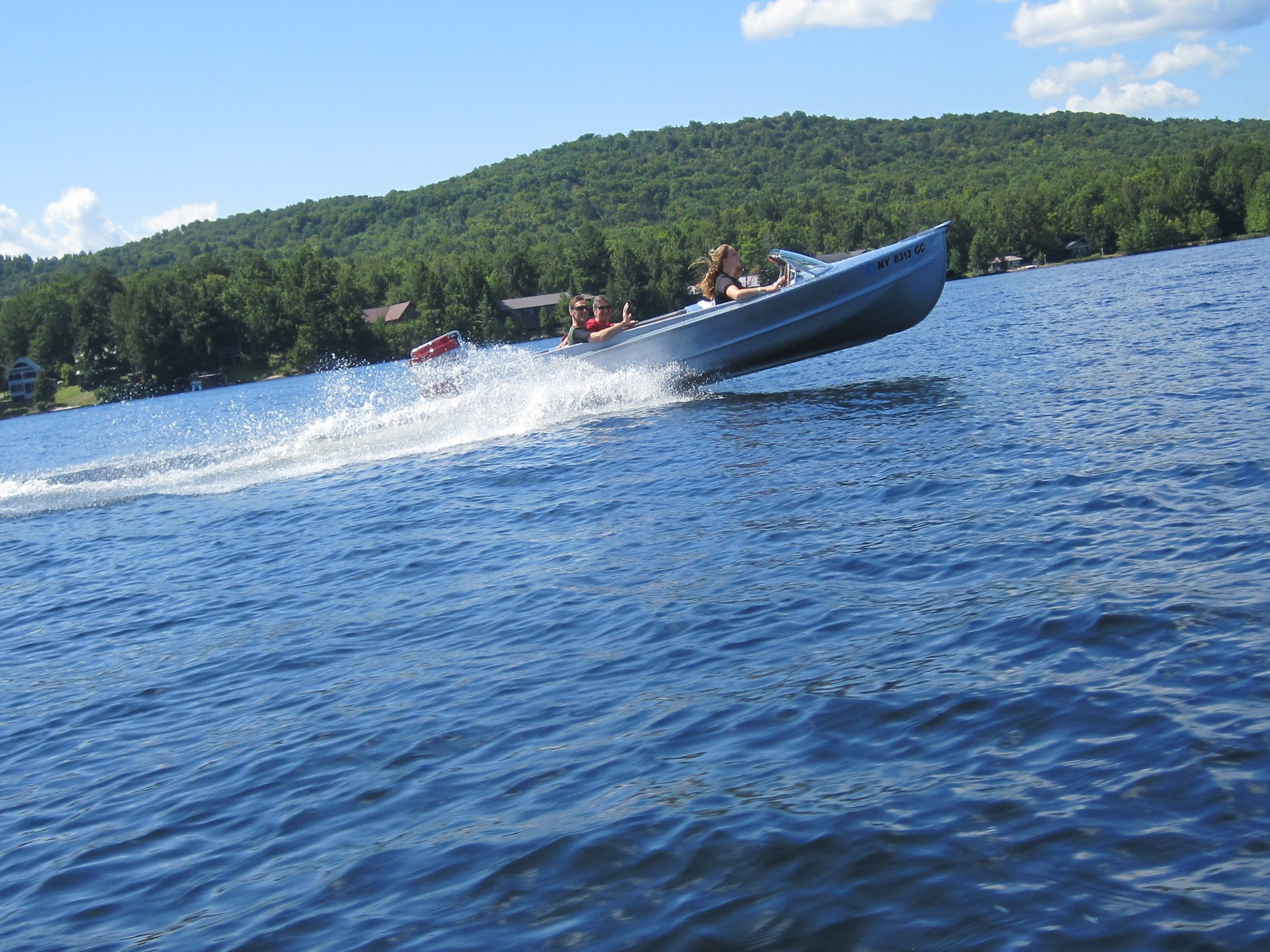 This is a pictures of a awesome 1957 Cadillac Boat by Michael Desimone below.
This is a 1956 Cadillac Boat ad by Cadillac Marine and Boat Co. By Brian Fogarty below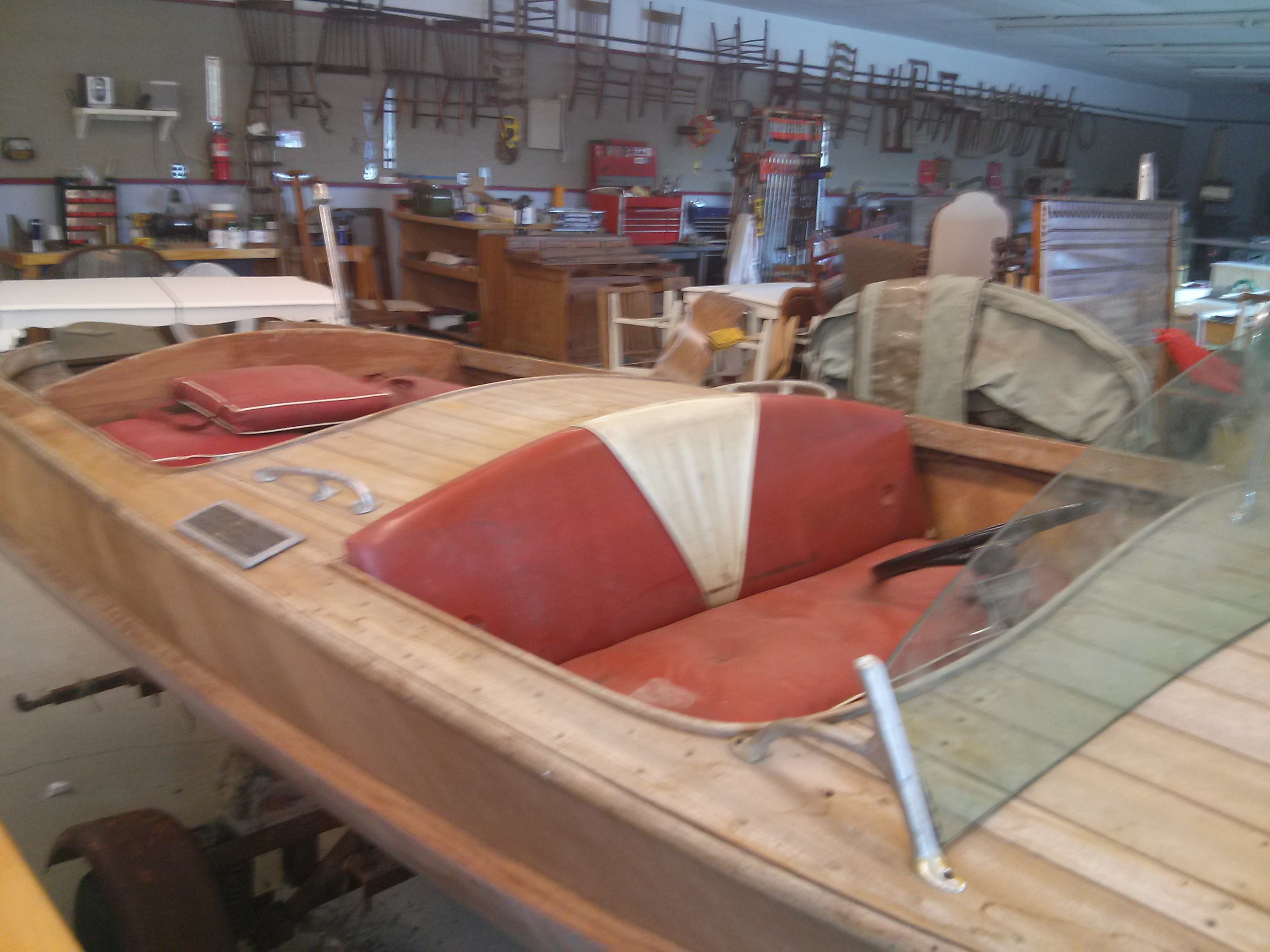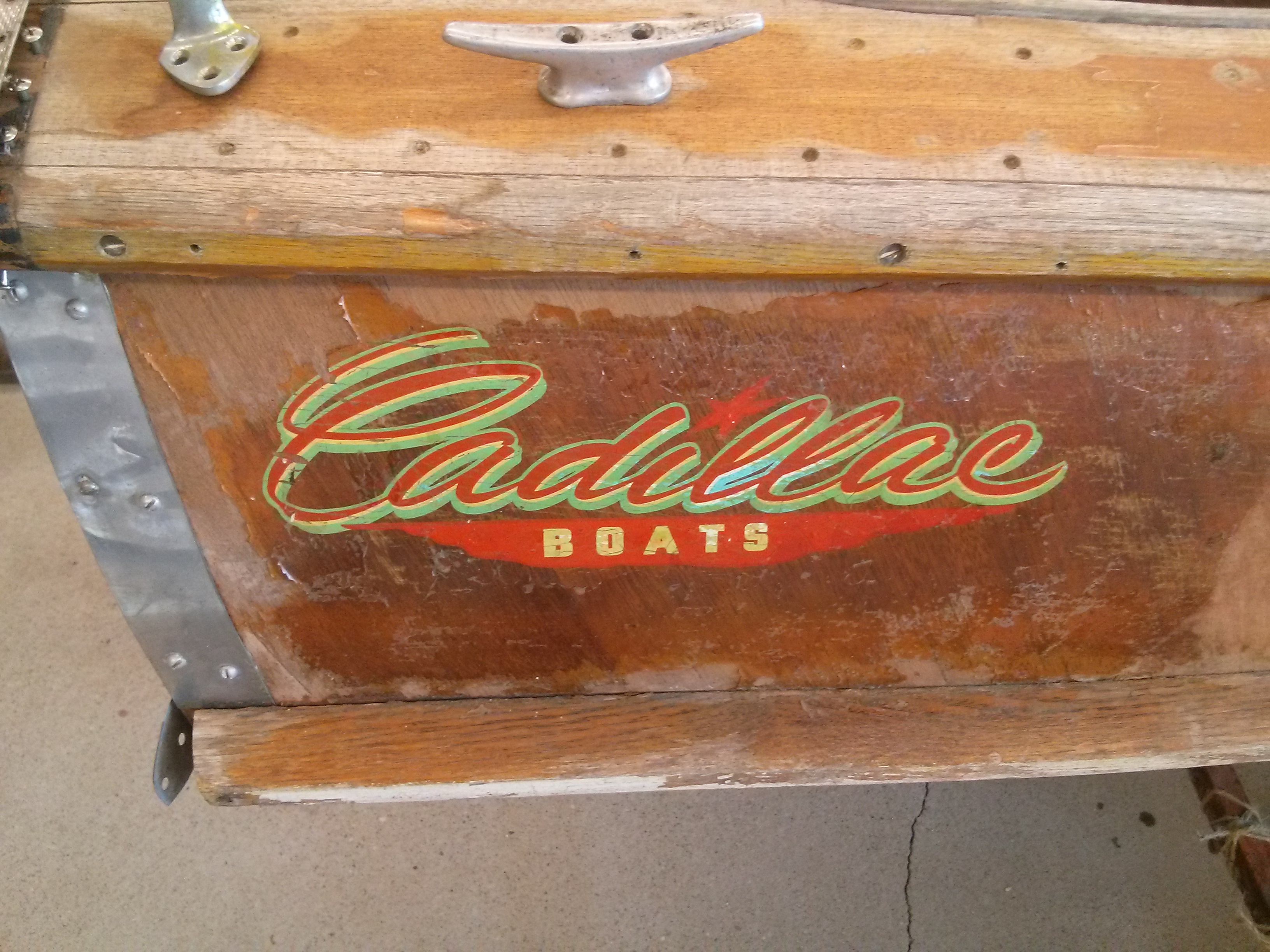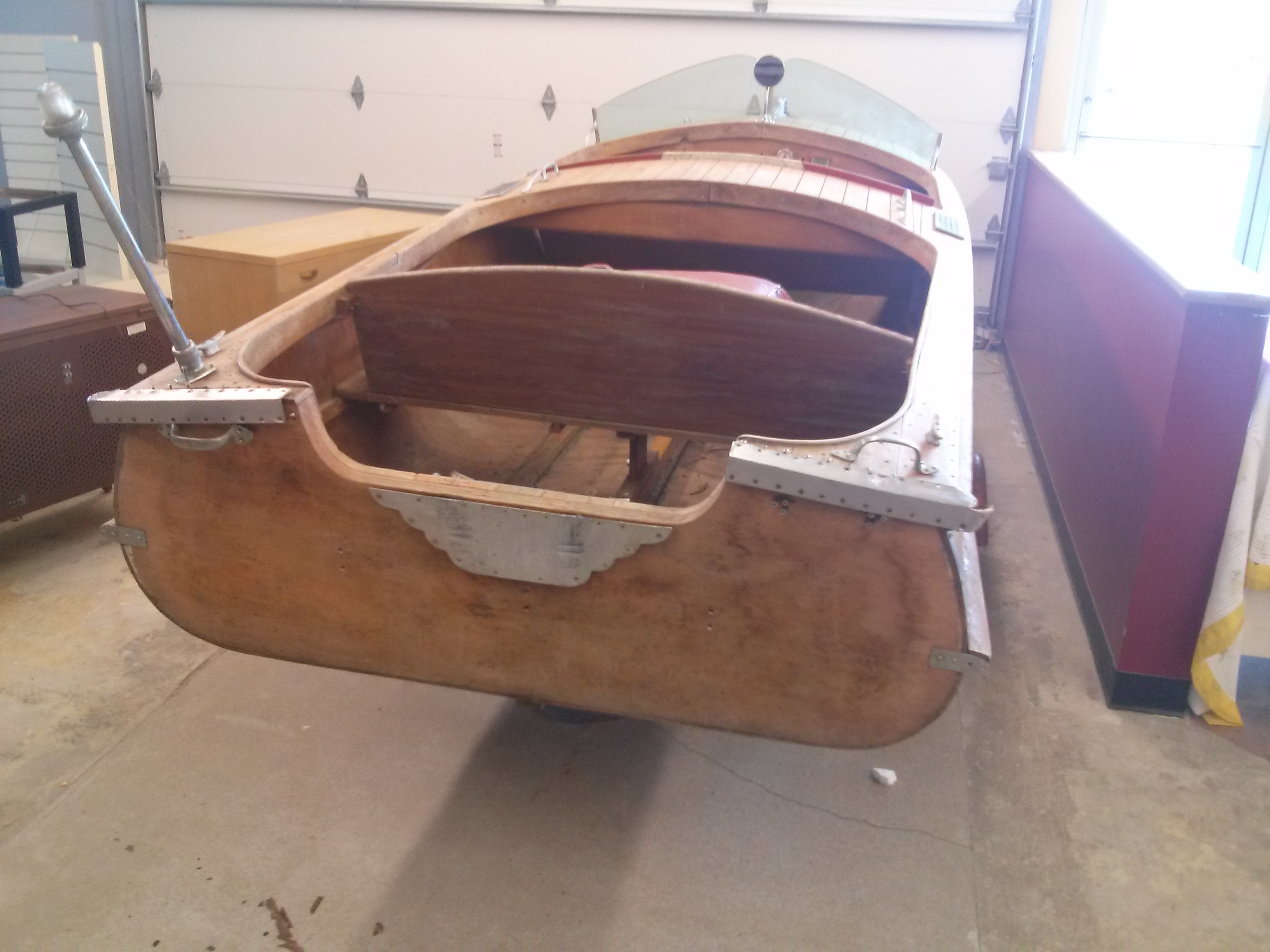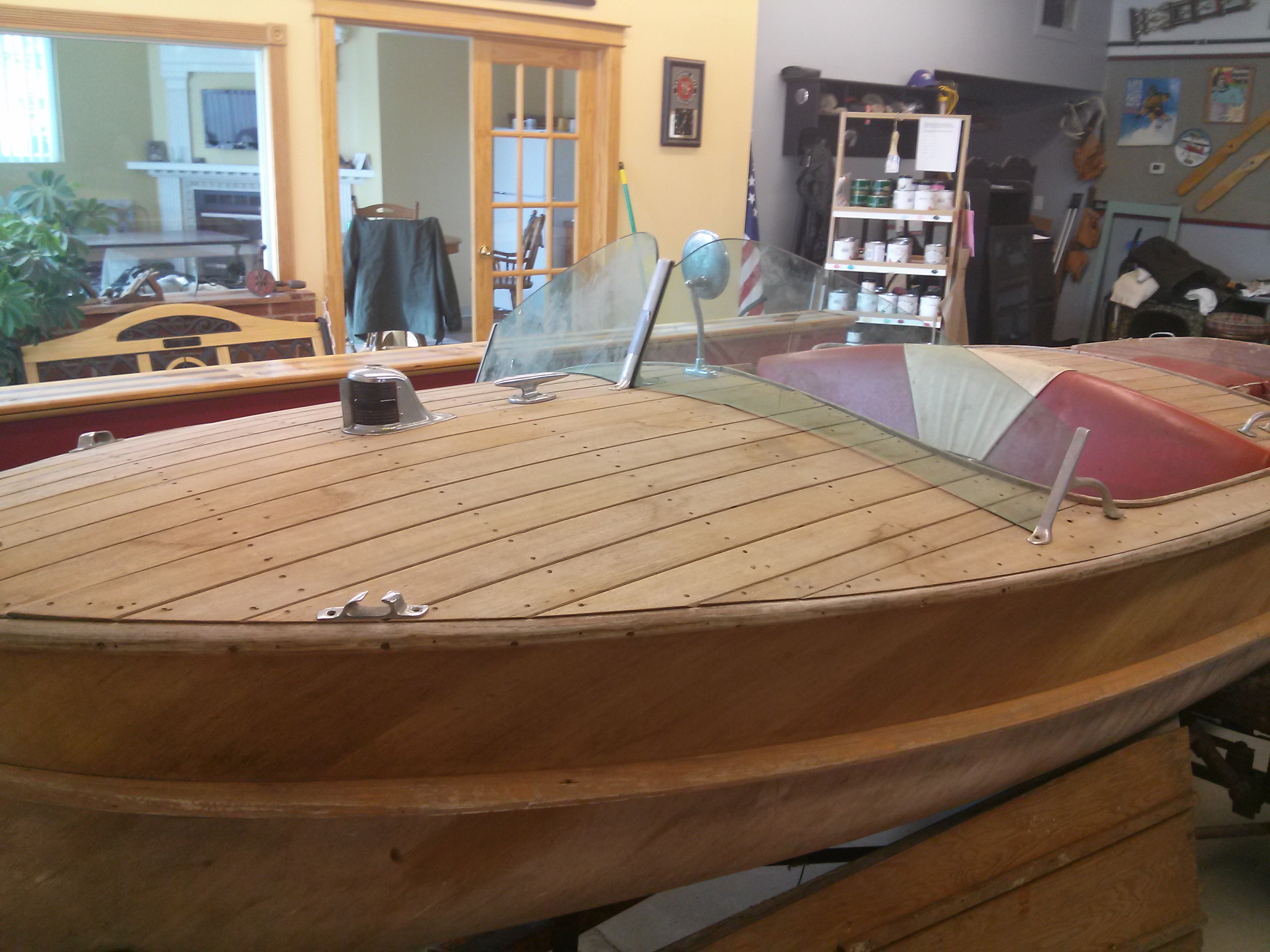 This is a Early Cadillac boat by Bryan Butterfield. Thank you for sharing your pictures of your cadillac boat.

This is a 1957 Cadillac "Silver Bullet" owned by David Belanger below

This is a 1955 Cadillac King Size Aluminum Boats Seville Model by Cadillac Marine and Boat Company by Brian Fogarty below

This is a 1954 Cadillac Boats ad by Cadillac Marine and Boat Co. by Brian Fogarty below

When you click the our 1956 Cadillac Boat link. This is a 1956 Cadillac Boat by Cadillac Marine and Boat CO. by Brian Fogarty This ad use for a teaching, commentary, and for research purposes only.
My father graduated from the University of Minnesota with a degree in aeronautical engineering. During world war II one of his responsibilities was to calculate which US aircraft could be outfitted with extra fuel tanks and be able to fly nonstop from California to Hawaii to replace aircraft lost at Pearl Harbor. And which aircraft would have to be shipped to Hawaii because they couldn't fly that far with extra fuel tanks. This will tie in later to the Wagemaker / Cadillac Marine boat company.
My Dad, Robert Wold, met Ray Wagemaker in Grand Rapids, Minnesota where we lived. At that time (early 1950s) my Dad and Ray Wagemaker went into business together to make plywood laminated school desks. Using wartime developed technology called microwave ovens to heat the glue and make the curved seat backs and desk tops out of plywood for local schools. This lead to the idea of using plywood in small residential boats. But aluminum boats were what my dad was about, and Alcoa Aluminum was one the major industrial suppliers after the war. In 1953 we moved from Grand Rapids Minnesota to Cadillac Michigan where my dad started working at the Cadillac Marine / Wagemaker company.
I don't remember much about the wooden boats they made, but the aluminum boats were the big thing because they were much lighter and could be carried on the roof of cars without the need for pulling boat trailer behind the car. And the aluminum boats were very rugged, designed for rough water in big northern lakes. Michigan and Minnesota were an especially large market areas for the aluminum boats. One popular design they had was a big deep v shaped front with a shallow rear transom. Fisherman loved these boats because they got up on a plane very quickly but still were low to the water in the back. My dad was from northern Minnesota and when we visited my grandparents, We would pull up to a dozen aluminum row boats to the fishing guide outfitters for use on the Minnesota Lake of the Woods tours into Canada. These guides also purchased a lot of aluminum canoes from Cadillac Marine for portage use on the Lake of the Woods.
I remember going through the factory in Cadillac many, many time as a small child. I always like the testing pool they had inside the factory to test the load capacity of each boat style. The aluminum boats would never sink because they had enough foam under the front decks and seats to keep them floating even when full of water. It was in the early/mid 50's that personal boat ownership exploded. And because of many boating accidents, a presidential safety commission was created to look into boating safety. My dad was part of that initial commission and because of his aeronautical engineering background, he wrote the formula that calculated the displacement boats made and thus determined the weight that each pleasure boat could safely carry. Thus the Cadillac Marine / Wagemaker company was a key partner in developing the safety stickers that all boats are required today to show how much weight they can safely operate with. Prior to this, boat manufactures were not required to do this. This is where my dad's engineering degree impacted the boating industry, including Cadillac Marine.
Eventually by the end of the 50's, the pleasure boating market was transiting into fiberglass boats which could be made much cheaper then wooden or aluminum boats. That is when the Wagemakers decided to sell Cadillac Marine. My Dad went on to switch industries from Boating to Mobile Home manufacturing, where he became president and owner of some of the largest Mobile Home manufactures in the US. He remained close friends with the Wagemakers the rest of his life.
I remember for years afterwards, my Dad had several Cadillac boat signage placards in his office. by Rick Wold

​